<![if !vml]>

<![endif]>
<![if !vml]>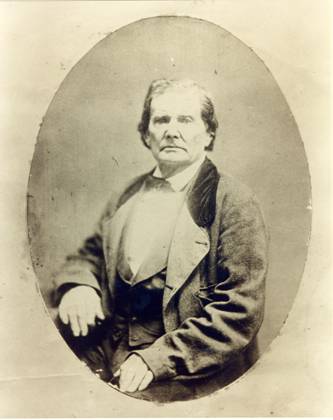 <![endif]> Thomas Lincoln (1778-1851)
Thomas Lincoln was the son of Revolutionary War veteran Abraham Lincoln and Bersheba Herring, both of Virginia. While still a youth in the 1780s, Thomas moved with his family to Kentucky, where he lived a typical settler's life. Receiving no formal education, he could nonetheless read a little and became a skilled carpenter and aspiring landowner. By all accounts, Thomas Lincoln was an active citizen of middling means.
In 1802, twenty-four-year-old Thomas moved to Hardin County, Kentucky, and in 1806 married Nancy Hanks. The couple produced three children: Sarah, Abraham, and Thomas, the last dying in infancy. In 1816, Thomas and Nancy joined the growing stream of Kentuckians then moving north of the Ohio and settled in the area of Pidgeon Creek, in Perry (later Spencer) County, Indiana.
In 1818, Nancy contracted milk sickness and died. Soon thereafter, Thomas married Sarah Bush Johnston of Elizabethtown, Kentucky. In 1830, the Lincolns moved to Macon County, then in 1831 to Coles County, Illinois, where Thomas remained the rest of his life.
Thomas and his son Abraham were never close. In his few autobiographical writings, Abraham had little good to say about his father and did not attend his funeral. Despite their strained relationship, father and son appear to have shared important characteristics – not least of which were their natural sociability, good storytelling, and Whig politics.
This cabinet-sized photograph was originally owned by Lieutenant O. V. Flora, who had served in the Tenth Ohio Battery from Springfield, Ohio.  While in Charleston, Illinois, he bought the photograph from someone close to the Lincoln family who claimed it to be an authentic image of Thomas Lincoln.
Courtesy of the Abraham Lincoln Museum of Lincoln Memorial University, Harrogate, TN
<![if !vml]>

<![endif]>