<![if !vml]>

<![endif]>
<![if !vml]>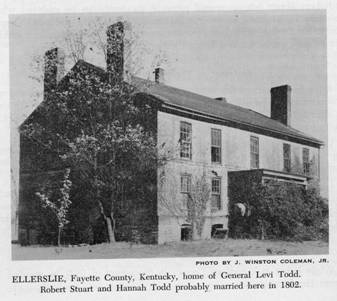 <![endif]> Levi Todd
(1756-1807)
 Mary Todd Lincoln's grandfather, Levi Todd, was an early Kentucky pioneer, Revolutionary War veteran, and a founder of Lexington.
Born in Pennsylvania in 1756, Todd studied law in Virginia and became a surveyor.  In 1775, he moved to Kentucky with his two brothers, John and Robert, and settled at Fort Harrod (Harrodsburg) and St. Asaph's (Stanford).  As lawyers were rare on the frontier, in 1777 Levi became the first clerk of Kentucky County (then part of Virginia).  Two years later, he established Todd's Station near Lexington and married Jane Briggs.  Threatened by Indian attacks, he moved to Lexington, which he had helped establish.  He was one of the first landowners, an original town trustee, and the first clerk of the Fayette County Court.
In the Revolutionary War Todd was a lieutenant under George Rogers Clark, fighting at Kaskaskia, Vincennes, and against Native Americans in the Northwest Territory.  He was one of the few officers to survive the battle of Blue Licks on August 18, 1782.  His brother John, who led the Kentucky troops, was killed.  Levi later buried the dead and wrote his brother Robert that the corpses "were all stript naked, scalped & mangled . . .  it was hard to know one from another.  Our Brother was not known."  He later succeeded Daniel Boone as commander of the Kentucky militia and was promoted to major general.
Todd was a delegate to the Kentucky statehood conventions of 1785 and 1787.  He also supported education, serving as a trustee to Transylvania University. Levi and Jane's seventh child was Robert Smith Todd, the father of Mary Todd Lincoln.
Levi Todd home
Kentucky Historical Society Collections
<![if !vml]>

<![endif]>