<![if !vml]>

<![endif]>
<![if !vml]>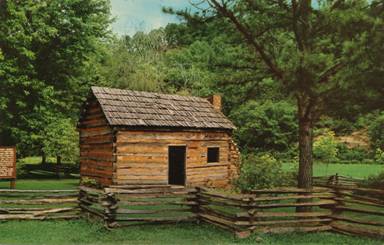 <![endif]> Lincoln Boyhood Home at Knob Creek
"My earliest recollection is of the Knob Creek place," wrote Abraham Lincoln in 1860.  The Lincoln family leased thirty acres of the 228-acre Knob Creek farm from 1811 to 1816.  Young Abraham Lincoln resided there from the time he was two and a half until he was nearly eight years old.
Located near the city of Hodgenville, the Knob Creek farm lay on the main road from Louisville to Nashville.  Lincoln and his sister Sarah attended two "A, B, C" schools while living at Knob Creek.  Decades later, Lincoln remembered the names of his Kentucky teachers, Zachariah Riney and Caleb Hazel. 
Lincoln's mother, Nancy, gave birth to a son while living at the farm.  The boy was named Thomas after Lincoln's father, but he died in infancy and was buried at the site.
Lincoln himself had a notable brush with death while living at Knob Creek.  Unable to swim, young Abraham accidentally fell into the creek only to be rescued by his friend Austin Gollaher. 
The Lincolns were forced off the farm in 1816 as a result of "difficulty in land titles," which was a common occurrence in early Kentucky.  The family eventually moved to Spencer County, Indiana, briefly living in a three-sided structure until a cabin could be built. 
In 2001, the Lincoln Boyhood Home at Knob Creek was purchased as a result of local, state, and private efforts.  It was then donated to the National Park Service, and the site is now operated as part of the Abraham Lincoln Birthplace National Historic Site. 
Cabin of Lincoln's boyhood friend Austin Gollaher located at the Lincoln Boyhood Home at Knob Creek
<![if !vml]>

<![endif]>