<![if !vml]>

<![endif]>
<![if !vml]>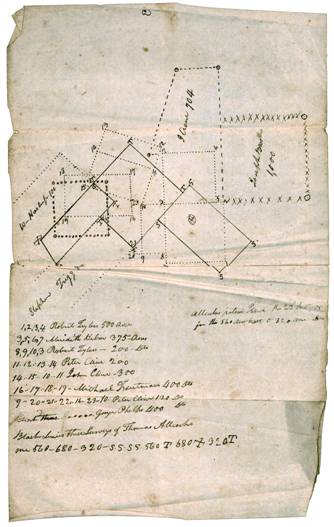 <![endif]>The Lincolns Leave Kentucky
In a rare autobiographical statement, Abraham Lincoln wrote that his father left the Bluegrass state "partly on account of slavery; but chiefly on account of the difficulty of land titles in Ky."
Thomas Lincoln's aversion to slavery appears to have been grounded in both religious and economic principles. Thomas and Nancy were both members of Little Mount Baptist Church, a congregation founded on antislavery principles and part of a larger network of antislavery churches in Kentucky. As the slave population in and around Hardin County increased during this period, Thomas Lincoln, a small farmer and artisan, may have feared growing competition in the labor market. Surely such worries would lessen in the newly formed "free" states of Ohio, Indiana, and Illinois.
Paralleling Lincoln's own recollections, the historical record is much clearer on Thomas Lincoln's inability to secure title to the Sinking Spring farm near Hodgen's Mill – birthplace of our sixteenth president. Believing he had purchased the farm "free and clear" from Richard Mather, difficulties over the agreement soon surfaced. While embarking on what became a protracted legal process to obtain title to the land at Sinking Spring, in 1811, Thomas moved his family to the Knob Creek area, leasing thirty acres along the old Bardstown–Green River turnpike. In the fall of 1816, however, his prospects for owning land in Kentucky had all but evaporated. By December, Thomas had scouted out land in Indiana and moved his family to a new frontier.
This example of the surveying practice called "shingling" is from a manuscript collection consisting of a group of surveys and plats from various counties in Kentucky. The location of these parcels is most likely from the Spencer/Shelby County region or the Spencer/Nelson/Washington County area, based on the names and acreage allocations.
Kentucky Historical Society Collections.
<![if !vml]>

<![endif]>