<![if !vml]>

<![endif]>
<![if !vml]>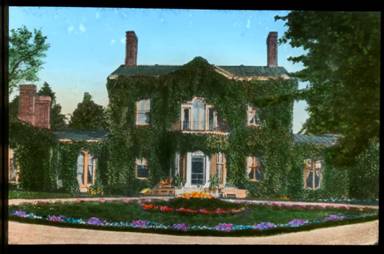 <![endif]>Ashland: The Home of Henry Clay
Henry Clay, my beau ideal of a statesman, the man for whom I fought all my humble life."  —
Abraham Lincoln, August 21, 1858
Ashland, the "elegant brick Federalist residence" of Henry Clay, Abraham Lincoln's political idol, was built between 1806 and 1811. The mansion was the focal point of his six-hundred-acre bluegrass farm.
Clay gave it the name "Ash Land" because of the many majestic ash trees on the property.  Benjamin H. Latrobe added one-story wings to the mansion in 1813-15. Mary Todd Lincoln visited Ashland during her early years. In a speech on September 6, 1856, Lincoln linked Clay to his estate by referring to him as "the sage of Ashland." Clay lived at Ashland from 1811 until his death in 1852.
After Henry Clay's death, the property was purchased by his son, James B. Clay. Owing to the deteriorating condition of the mansion, he had it razed and a new one built on the site. This Italianate-style house, which retained but modernized the original floor plan, was finished 1857.
In 1866, Susan Clay, James B. Clay's widow, sold Ashland to Kentucky University. In 1883, the board of curators of Kentucky University sold it to Henry Clay McDowell. His wife, Anne Clay McDowell, Clay's granddaughter, remodeled the interior in the Victorian style.
Nanette McDowell Bullock, a great granddaughter, lived at Ashland until her death in 1948. Her will stipulated that the estate become the property of the Henry Clay Memorial Foundation. Since 1950, the Henry Clay Estate, encompassing twenty acres, several dependencies, and a formal garden, has been operated as a museum by the foundation.
Lantern slide of James B. Clay's mansion at Ashland: The Henry Clay Estate
Kentucky Historical Society Collections
<![if !vml]>

<![endif]>