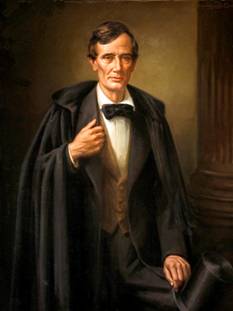 Kentucky Memory  
and the Williams Portrait of Abraham Lincoln
"Nearly a lifetime has elapsed since Abraham Lincoln, first son of Kentucky, passed away, a martyr to Union and Liberty, the foundation stones of our government and civilization." –
Willard R. Jillson, 1932
At the turn of the twentieth century, the collections of the Kentucky Historical Society (KHS) largely reflected the commonwealth's pro-Confederate identity of the post-Civil-War era. In the 1920s, however, KHS holdings expanded to include a modest collection Lincolniana—mostly small prints and engravings. Members of the KHS Executive Committee had taken to heart the "growing sense of appreciation" for the Lincoln figure. As Jillson later observed, regard for Lincoln's image had "swept beyond the natural bounds of Commonwealth and nation to grace distant places, to adorn imperishable halls of fame and intellectual sanctuaries throughout the world." On January 29, 1929, the Executive Committee decided to commission "a suitable portrait" of Abraham Lincoln to be placed in the Old State Capitol Building in Frankfort.
Funds for the painting were raised through a "Lincoln Gift Box," which received donations, large and small, by adults and children from throughout Kentucky, the United States, and the world. Miss Mary Mason Scott, Mrs. John Peyton Hobson, and Mrs. Jouett Taylor Cannon were charged with selecting an artist and acquiring the portrait. The committee chose for this work Charles Sneed Williams (1882-1964), a well-respected, Kentucky-born painter, then living and working in London and Chicago. In the resulting portrait, Williams sought to capture what he called Lincoln's "greatness," by which he meant: a quality which seems to me to rise far beyond all political or even historical boundaries—beyond even his fame—a quality of greatness of spirit, a quality which for many years made him to me the human man at his highest point—no superman but a warm-hearted being.
The painting was unveiled at the Boone Day festivities on June 7, 1932. Louis A. Warren, director of the Lincoln Historical Research Foundation of The Lincoln National Life Insurance Company in Fort Wayne, Indiana, gave the dedicatory talk. Today, visitors can see the portrait in the KHS permanent exhibition gallery.
Portrait of Abraham Lincoln by Charles Sneed Williams, 1932
Kentucky Historical Society Collections