<![if !vml]>

<![endif]>
<![if !vml]>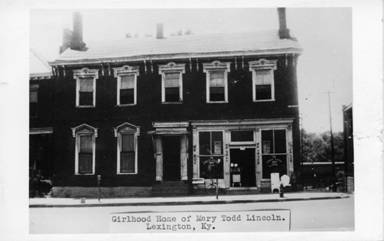 <![endif]>Mary Todd Lincoln House
"No other house in Kentucky has as many associations with President Lincoln and his family as does this red brick house on West Main Street." –
J. Winston Coleman Jr.
The Mary Todd Lincoln house, at present-day 578 West Main Street in Lexington, Kentucky, was built ca. 1803-6 as an inn called "The Sign of the Green Tree," operated by William P. Monteer who sold the property to Robert S. Todd, Mary Todd's father, in May 1832. Mary Todd was thirteen years old when the Todds moved there, and this was her home until she left Kentucky to live with her sister Elizabeth Edwards in Springfield, Illinois, in 1839.
The home was a spacious, fourteen-room, two-story brick Georgian house with double parlors, a wide central hall, and a long ell. The grounds were large enough to accommodate a kitchen, servants' quarters, a washhouse, a springhouse, a smokehouse, and stables with a carriage house. The side lawn was a flower garden with a gravel walk close to the Town Fork of Elkhorn Creek.
Abraham Lincoln visited the home several times and spent nearly a month there in 1847 on his way to Washington, D.C. After Robert Todd's death in 1849, the house was sold at auction.
After being in private hands for many years, it was acquired by the Kentucky State Parks Department in 1967. It was opened to the public by the Kentucky Mansions Preservation Foundation Inc. in 1977. An inventory of the auction was used as a guide for furnishing the house. The Lincoln and Todd families have donated family pieces to the home over the years. The Mary Todd Lincoln House has the distinction of being the first historic site restored in honor of a First Lady. 
Postcard showing childhood home of Mary Todd Lincoln, ca. 1940s
Kentucky Historical Society Collections
<![if !vml]>

<![endif]>