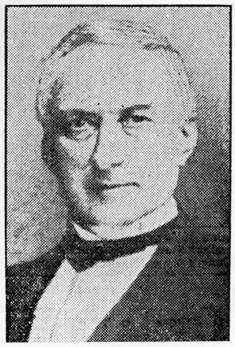 John Todd Stuart
(1807-1885)
When Abraham Lincoln moved to Springfield, Illinois, Kentuckian John Todd Stuart encouraged Lincoln to study law.  He also became Lincoln's friend and first law partner.
Stuart was born in Fayette County, Kentucky, on November 10, 1807.  A cousin to Mary Todd Lincoln, he was the son of a Presbyterian minister and Mary's aunt.  Stuart graduated from Centre College in 1826, and, two years later, became an attorney in Springfield, Illinois.  He met Lincoln during the Black Hawk War when both served in the Illinois militia.  Stuart encouraged Lincoln to study law, lent Lincoln his law books, and the two men were law partners from 1837 to 1841. 
Like Lincoln, Stuart served in the Illinois legislature and the U. S. Congress.  Although he and Lincoln were friends, Stuart backed Constitutional Union candidate John Bell in the 1860 presidential election instead of Lincoln.  In 1862, Stuart went to Congress as a Democrat, where he disagreed with several of Lincoln's wartime policies, including emancipation.  Stuart saw the Civil War "as a mistake and crime on the part of the South" and thought that the "battle should have been fought at the ballot-box, under the Union and constitution."  Despite his political disagreements with Lincoln, Stuart, friend of the president and cousin to the first lady, was a frequent visitor to the White House. After Lincoln's death, Stuart was president of the Lincoln Monument Association in Illinois.   
John Todd Stuart
Kentucky Historical Society Collections