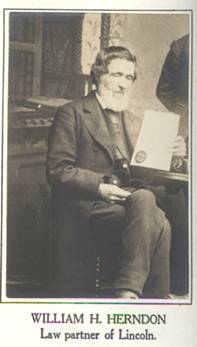 William H. Herndon
(1818-1891)
ďMr. Lincoln was my warm, devoted friend. I always loved him, and I revere his name to this day.Ē ó
William H. Herndon
†††††††††††††††
William Henry Herndon was born in Greensburg, Kentucky, in 1818. His family moved to Illinois in 1820 and settled in Springfield in 1823. Herndon attended Illinois College in Jacksonville, worked as a clerk in Joshua Fry Speedís store, was admitted to the bar, and in 1844 became Lincolnís law partner. As a young man he had become a Whig and an opponent of slavery.
Herndon was an important political advisor to Lincoln until after his race against Stephen A. Douglas for the Senate in 1858. As the new Republican Party became more conservative, Herndon, with his fiery views of the sectional crisis (war or separation), became increasingly marginalized.
Lincolnís death was the defining moment in Herndonís life. It launched him on a lifelong career as a Lincoln lecturer and biographer. He did intensive research on those parts of Lincolnís life less familiar to himóthe periods before 1837 and after 1860. He conducted many interviews and corresponded widely to gather information.
His outspoken views on Lincoln quickly made him a controversial figure, particularly his denial that Lincoln was a Christian. This view brought him into vigorous conflict with biographers like J. G. Holland who depicted Lincoln as a ďChristian statesman.Ē
Herndonís last Lincoln lecture was delivered in 1873. In 1881, he collaborated with Jesse W. Weik to produce Herndonís Lincoln, the True Story of a Great Life which immortalized him as a Lincoln biographer. Herndonís legacy in this role is generally regarded as mixed. He seems, for example, to have greatly overestimated the importance of the death of Anne Rutledge as an explanation for Lincolnís lifelong melancholy. He also underestimated the character and station in life of Lincolnís father, Thomas. Nevertheless, he is an indispensable source for many details of Lincolnís life, particularly from 1837 to 1860. †
William H. Herndon
Courtesy of the Abraham Lincoln Museum of Lincoln Memorial University, Harrogate, TN