<![if !vml]>

<![endif]>
<![if !vml]>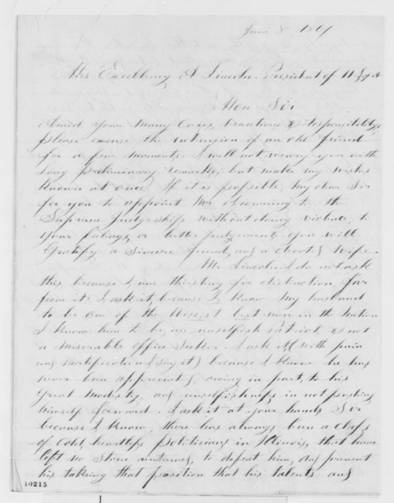 <![endif]>Eliza Caldwell Browning
(1807-1885)
Eliza Caldwell was born near Richmond, Kentucky, in 1807.† She married Orville H. Browning in 1836 and moved to Quincy, Illinois, where her husband practiced law and where she would live for the next forty-nine years.†
The friendship between Eliza and Abraham Lincoln began in 1836 and would last nearly thirty years.† Lincoln had known O. H. Browning from the Black Hawk War but did not meet Eliza until she moved with her husband to Vandalia for the start of the legislative session in 1836.†† They boarded in the same house, and Lincoln was soon spending his free time visiting Mrs. Browning.† While generally embarrassed and awkward among ladies, Lincoln was clearly quite comfortable with Eliza Browning.† Eliza discovered the young Abrahamís best qualities and treated him in such a manner that he was soon completely at ease with her.† She occupied a special place in Lincolnís early adulthood and represented a woman of higher social standing with whom he felt complete comfort.† The two would remain friends until Lincolnís death in 1865, representing what may have been the longest female friendship in his life.
When Eliza is mentioned in Lincoln histories, it is usually in conjunction with an 1838 Lincoln letter to her in which he satirized an unsuccessful courtship.† The letter suggests an easy familiarity between the cultured and politically astute Eliza and Lincoln.† They were both intellectual and shared a love for poetry, humor, and wit.
The Lincolns and the Brownings were friends through Abraham Lincolnís marriage and into his White House years.† When the Lincolnsí son Willie died of typhoid fever, the Brownings were summoned to the White House.† Eliza stayed on for a week at Lincolnís request to care for Mary and for young Thomas (Tad).
Letter from Eliza Browning to Abraham Lincoln, June 8, 1861 requesting a Supreme Court appointment for her husband Orville H. Browning.
Courtesy of the Library of Congress, Manuscript Division
<![if !vml]>

<![endif]>