<![if !vml]>

<![endif]>
<![if !vml]>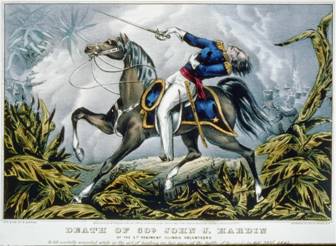 <![endif]>John J. Hardin
(1810-1847)
One of Abraham Lincoln's political colleagues in Illinois, Kentuckian John J. Hardin, prevented the future president from fighting a duel.
Hardin, a cousin to Mary Todd Lincoln and the son of a U. S. senator, was born in Frankfort in 1810.  After practicing law in Jackson, Illinois, Hardin became a leading Whig politician, serving in the Illinois legislature and Congress.
In September 1842, Lincoln's political rival James Shields was angry about a newspaper article that Lincoln reputedly wrote.  Shields challenged Lincoln to a duel and Lincoln chose to fight with broadswords.  Before the fight, however, Hardin intervened.  He knew the duelists, and, according to one newspaper account, he "appeared on the scene, called both d----d fools, and by his arguments addressed to their common sense, and by his ridicule on the figure that they, two well grown, bearded men, were making there, each with a frog sticker [sword] in his hand, broke up the fight."
Hardin and Lincoln soon became political rivals.  In 1843, both sought their district's Whig nomination to Congress.  Lincoln withdrew, and Hardin won the seat.  Hardin, Lincoln, and another candidate agreed to take turns running for that office, and Lincoln was annoyed when Hardin again announced his candidacy.  The crafty Lincoln tried to remove Hardin by having him nominated for governor, but Hardin refused.  In the end, Hardin withdrew as a candidate.
When the Mexican War erupted, Hardin became colonel of the 1st Illinois Regiment.  He was killed on February 23, 1847, at the battle of Buena Vista.  With his death Lincoln lamented, "We lost our best Whig man."
Currier and Ives print of the Death of Col. John J. Hardin: Of the 1st regiment Illinois volunteers, 1847 
Courtesy of the Library of Congress, Prints and Photographs Division
<![if !vml]>

<![endif]>