<![if !vml]>

<![endif]>
<![if !vml]>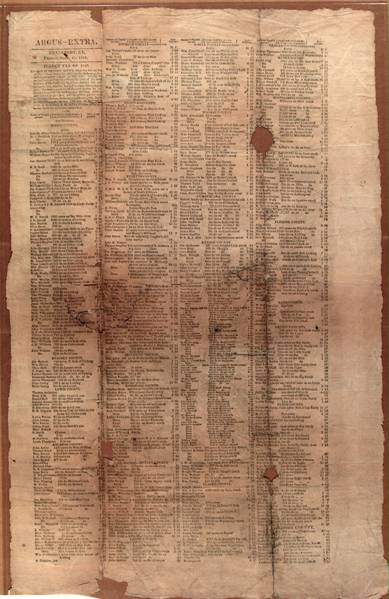 <![endif]>Francis Preston Blair Sr.
(1791-1876)
A newspaper editor, attorney, and presidential advisor, Francis Preston Blair Sr., better known as Preston Blair, was born in Abingdon, Virginia, in 1791 and reared in Frankfort, Kentucky.† He graduated with honors from Transylvania University in 1811 and from 1813 to 1830 was circuit clerk of Franklin County, edited the Argus, a local newspaper, and was deeply involved in state politics.†
In 1830, President Andrew Jackson asked him to come to Washington to edit the Globe, a newspaper of the Democratic Party. Many Democratic newspapers throughout the country began to reprint Blairís editorials.† A turning point for Preston Blairís editorship came with the election of James K. Polk to the presidency. Polk sought another editor for the Globe, and Blair retired to his Silver Springs, Maryland, country estate in 1845.
Preston Blair continued as a Democrat, but when the Missouri Compromise of 1820 was repealed in 1854, he left his old party in favor of the new Republican Party.† Swiftly rising in the new party, he chaired both the 1856 and the 1860 Republican conventions where he exercised great influence in the nomination of Abraham Lincoln for president.
As hostilities began at Fort Sumter, Preston Blair urged Lincoln to reinforce the beleaguered South Carolina outpost, and as the war began, he offered advice to Lincoln on other issues, including military appointments. He was detailed by Lincoln to sound out Robert E. Lee on the conflict and on an appointment to command.† In 1864, Blair conducted an unauthorized meeting with Confederate president Jefferson Davis to see if peace was obtainable.† After the war and Lincolnís assassination, he supported the dead presidentís moderate policies of Reconstruction and eventually left the Republican Party over these issues.
Public notice published in the Argus of Western America in Frankfort, 1818, concerning delinquent taxpayers of the federal direct tax on property.
Kentucky Historical Society Collections
<![if !vml]>

<![endif]>