<![if !vml]>

<![endif]>
<![if !vml]>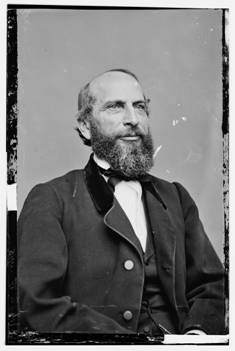 <![endif]>James Speed
(1812-1887)
In late 1864, Abraham Lincoln appointed James Speed of Louisville to the position of U.S. attorney general. In choosing Speed, a leading Kentucky Republican and antislavery politician, Lincoln fulfilled his hope of bringing a like-minded Kentuckian into the cabinet.
Lincoln and James Speed became acquainted as early as 1841, when Lincoln made several visits to his law office in Louisville. Both were active members of the Whig Party and shared a similar "free labor" philosophy.  During his term in the Kentucky House of Representatives (1847-48), Speed fought against the repeal of the Nonimportation Act of 1833, which forbade the importation of slaves into Kentucky. In 1849, he led a group of antislavery Kentuckians intent on amending the new state constitution to include a gradual-emancipation provision. Whether Lincoln corresponded with Speed on the issue is unknown, but he timed his visit to Lexington in the fall of 1849 to coincide with the constitutional convention, and followed its proceedings closely.
When the Whig Party dissolved, both Abraham Lincoln and James Speed joined the Republican Party. During the Civil War, James—like his brother Joshua—worked to keep Kentucky in the Union. In 1861, James served on the "Union state central committee," was appointed mustering officer for the Kentucky Union volunteers, and commanded the Louisville Home Guard.
Elected to the Kentucky Senate that same year, his sympathies soon favored the Radical Republicans. Yet he opposed Federal involvement in slavery, including Lincoln's Preliminary Emancipation Proclamation, preferring a state-led program of compensated emancipation. He was the only senator to do so.
By 1864, Speed accepted Lincoln's approach to emancipation and advocated racial equality. When a Border Slave State Emancipation Convention was held in Louisville—advocating support of U.S. Colored Troops, a constitutional amendment abolishing slavery, and the re-election of President Lincoln—Speed served on the central committee.
As U.S. attorney general, Speed witnessed the passage of the Thirteenth Amendment and the beginnings of Lincoln's Reconstruction policy. On the morning of April 15, 1865, he was at the bedside of the assassinated president.
After Lincoln's assassination, Speed remained a committed Radical Republican and an advocate of African American civil rights. In July 1866, He resigned the post of attorney general and became chairman of the Southern Loyalist Convention in Philadelphia, which opposed President Andrew Johnson's policies.
James Speed
Courtesy of the Library of Congress, Prints and Photographs Division
<![if !vml]>
<![endif]>