<![if !vml]>

<![endif]>
<![if !vml]>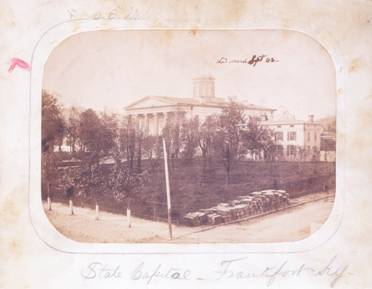 <![endif]>Kentucky's Old State Capitol
Completed in 1830, this national historic landmark introduced Greek-Revival architecture to the United States west of the Appalachian Mountains. The building served as the capitol of the Commonwealth of Kentucky from 1830 to 1910. Here Kentucky's leaders decided the course their state would take through the tumultuous years prior to and during the Civil War. The Old State Capitol was the only pro-Union state capitol occupied by the Confederate army during the Civil War. Plans to swear in a Confederate governor and establish a Confederate state government were ruined by the approach of the Union army just days before the battle of Perryville in 1862.
Gideon Shryock, an early Kentucky architect, designed the Old State Capitol when he was only twenty-five years old. Shryock used architectural symbolism to connect the vigorous frontier state of Kentucky with the ideals of classical Greek democracy. The building is widely recognized as a beautiful masterpiece of nineteenth-century American architecture.
Replaced by the New Capitol in South Frankfort early in the twentieth century, the building served as the home of the Kentucky Historical Society from 1920 until 1999. The subject of extensive restoration work since the early 1970s, the Old State Capitol looks today much as it did in the 1850s.
Earliest known photograph of the Kentucky State Capitol, 1859, from the Kentucky Military Institute 1859 class album of C. E. Merrill. There is a faint pencil sketch of the Confederate flag drawn on the dome with the inscription, "that waved Sept. 62."
Kentucky Historical Society Collections
<![if !vml]>

<![endif]>