<![if !vml]>

<![endif]>
<![if !vml]>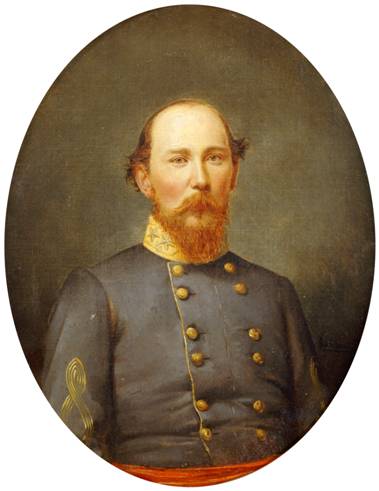 <![endif]>Benjamin Hardin Helm
(1831-1863)
Benjamin Hardin Helm was born in Bardstown, Kentucky, in 1831, the son of John L. Helm, governor of Kentucky in 1850-51 and 1867. He came into Abraham Lincoln's Kentucky family circle when he married Emilie Todd, Mary Lincoln's half sister, in 1856.
Benjamin Hardin Helm had attended the U.S. Military Academy at West Point and graduated ninth in his class in 1851.  After serving briefly on the Texas frontier before illness forced his resignation from the army, he studied law and entered practice in Elizabethtown before being elected to the Kentucky House of Representatives in 1855.  A year before the Civil War started, he became an assistant inspector general in the Kentucky State Guard.
As the Civil War began, President Lincoln offered his brother-in-law a commission as paymaster in the Union army.  He turned down the offer and helped recruit the First Kentucky Cavalry Regiment for the Confederate army.  Commissioned a colonel, Helm quickly rose in rank when he was promoted to brigadier general after the battle of Shiloh and served under fellow Kentuckian General John C. Breckinridge in Mississippi and Louisiana.  Eventually, General Helm became commander of the First Kentucky Infantry Brigade (the "Orphan Brigade") and was killed at the battle of Chickamauga in northern Georgia on September 20, 1863.  When President Lincoln learned of his brother-in-law's death in battle, he was deeply moved and told one member of his cabinet that he felt like David in the Bible when he learned that his son Absalom had been killed.   
Portrait of Benjamin Hardin Helm
Kentucky Historical Society Collections
<![if !vml]>

<![endif]>