<![if !vml]>

<![endif]>
<![if !vml]>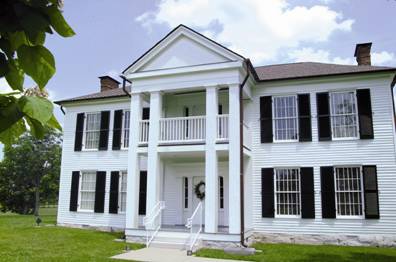 <![endif]>Camp Nelson
The Camp Nelson Civil War site is located in Jessamine County about five miles south of Nicholasville.  Constructed in 1863, Camp Nelson served as a Union military base and recruiting ground for African American soldiers.  Camp Nelson was the largest African American recruitment camp in Kentucky and the third largest in the nation. 
The original base encompassed four thousand acres and contained nearly three hundred buildings and fortifications. General Ambrose Burnside named the base in honor of General William "Bull" Nelson, who was killed in 1862.  The location served as an important base of support for offensive campaigns into Tennessee and Virginia.  
In February 1864, recruitment of African American slaves began at the site.  In all, eight regiments of troops were founded at Camp Nelson, many of whom gained their freedom upon enlistment.  The recruits often brought their families to the site as well, and Camp Nelson soon had a refugee crisis on its hands.  After first turning the refugees away, the leaders at Camp Nelson were ordered to build proper shelters for the families of enlisted men. 
Today, Camp Nelson features nearly four miles of trails with more than twenty wayside interpretive signs. The Oliver Perry House, also known as the "White House," has period furnishings and offers guided tours.  "Civil War Days" is an annual event held each fall.   
The Oliver Perry House at Camp Nelson
<![if !vml]>

<![endif]>