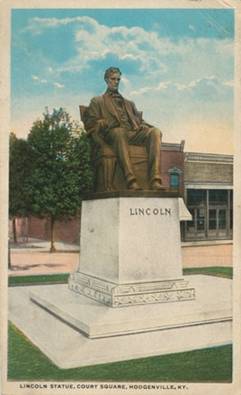 Adolph Weinman and the Abraham Lincoln
Sculpture in Hodgenville
Adolph Weinman (1870-1952), noted American sculptor, was born in Germany in 1870 and emigrated to the United States at the age of ten.  He apprenticed and studied under some of the foremost sculptors and modelers in America, eventually becoming an assistant of Augustus Saint-Gaudens, Olin Warner, and D.C. French.  In anticipation of the 1909 bicentennial celebration of Abraham Lincoln's birth, he was chosen to produce a Lincoln sculpture to be placed in Hodgenville, Kentucky, two miles north of Lincoln's birthplace on the Sinking Spring farm.  He also produced sculptures of Lincoln for Madison, Wisconsin, and the rotunda of Kentucky's State Capitol. On May 31, 1909, three months after the laying of the cornerstone for the Lincoln Memorial building, the Weinman sculpture was unveiled in downtown Hodgenville.  In attendance was Abraham Lincoln's sole surviving son, Robert Todd Lincoln, who was then president of the Pullman Car Company. Also in attendance was his sister-in-law Emilie Todd Helm, wife of the late Confederate general Benjamin Hardin Helm, Henry Watterson, and other distant family members and friends.
A Courier-Journal reporter painted a picture of the scene, stating:
While ten thousand people stood in reverence with bared heads, and the sweet familiar strains of America, sung by hundreds of white-clad children, floated out upon the air, a veiling of the Stars and Stripes fell gracefully away from a                bronze memorial of Abraham Lincoln, the man who fought to save the Union and won with his victory undying fame and                love of former foes.  The canopy that hid the statue from view was drawn away by the hand of Mrs. Ben Hardin Helm, a sister of the wife of Lincoln, and cheer after cheer went up.
The sculptor himself was then introduced to the crowd who "cheered enthusiastically."
Postcard showing Adolph Weinman's statue of Abraham Lincoln in the Court Square in Hodgenville, Kentucky Historical Society
Kentucky Historical Society Collections