Recent News
This Week at the State Capitol

- 01/17/20
Public health 'transformation' bill clears committee

- 01/16/20
State Senate passes first bills of Regular Session
- 01/16/20
Sports wagering bill clears House committee

- 01/15/20
Bill banning female genital mutilation advances - 01/15/20
Bill to curb damaging rental properties heard

- 01/14/20
House Transportation hears of Real ID rollout

- 01/14/20
This Week in Frankfort - 01/10/20
This Week at the State Capitol
FRANKFORT -- There's always a guessing game among Capitol observers in the early days of a General Assembly session over which issues will be designated as Senate Bill 1 and House Bill 1 – honorifics reserved for matters considered to be among top priorities by legislative leaders.
Part of that answer was unveiled last week when legislation on immigration was filed in the Senate as Senate Bill 1. The rest of the answer revealed itself this week as House leaders announced that public assistance reform will be the focus of House Bill 1.
Senate Bill 1, which is currently awaiting consideration by the Senate Judiciary Committee, would call upon law enforcement officials and public agencies to use their best efforts, considering available resources, to support the enforcement of federal immigration law.
Senate Bill 1 would also prohibit sanctuary policies in Kentucky, such as a measure to block officials from cooperating with federal efforts to enforce immigration laws.
Some fine-tuning on the measure is still occurring to make sure the intent of the bill is clear, one of its sponsors said this week. The bill already states that school districts would be exempt from provisions in the legislation. Others who would also be exempt under changes that will be proposed to the legislation include domestic violence centers, child advocacy centers, rape crisis centers, public defenders, and health departments.
While House Bill 1 has not yet officially been filed for consideration in the House, legislative leaders say the bill is coming soon and will be aimed at helping people moving from public assistance into the workforce.
During a Jan. 13 appearance on Kentucky Educational Television, House Speaker David Osborne said House Bill 1 is "pro-worker" legislation. The measure's supporters say it would help move people into the workforce by making sure those transitioning off of public assistance don't face "benefit cliffs," situations in which a small increase in earned income could trigger a significant drop in child care assistance or some other form of assistance that sets back a struggling family's attempt to achieve financial stability.
In another highlight of last week's legislative action, the Senate and House met in a joint session on Jan. 14 to listen to Gov. Andy Beshear's first State of the Commonwealth Address. The governor urged policymakers to look beyond partisanship and national divisions to focus on matters that most directly affect Kentuckians.
After the speech, legislative leaders praised the cooperative tone. They also noted that some of the most difficult work of governing lies ahead. The governor will offer his budget proposal in a couple weeks at a time when revenue increases are outpaced by cost increases in areas like education, criminal justice, public pensions, and Medicaid. Once the governor delivers his two-year spending proposal, it will be up to lawmakers to craft a budget that they feel best suits the needs of the state.
Already, more than 350 bills have been filed in the House and Senate on issues including human trafficking, hemp, gun rights, vaping, voting rights and sports betting. Citizens can share their input with lawmakers on the issues under consideration by calling the General Assembly's toll-free message line at 1-800-372-7181.
--END--
---
Public health 'transformation' bill clears committee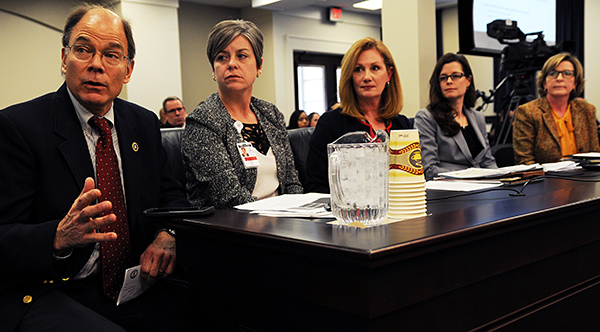 Rep. Joe Graviss, D-Versailles, testifies before the House Health and Family Services Committee with public health officials and House Health and Family Services Chair Rep. Kimberly Poore Moser, R-Taylor Mill, center, on Moser's "public health transformation" proposal found in House Bill 129. A hi-res photo can be found here .
FRANKFORT— A bill aimed at improving Kentucky's public health system by putting it through a legislative "transformation" was approved today by the House Health and Family Services Committee.
Rep. Kimberly Poore Moser, R-Taylor Mill, chair of the committee and sponsor of House Bill 129, said the so-called "public health transformation" bill's proposed funding model and operational changes are needed to ensure that mandated and other core public health services are delivered in the face of a nearly $39 million deficit facing public health in Kentucky. Moser said the deficit is largely due to mounting public health pension obligations and health care changes.
"The health care system has undergone changes over the years that have impacted (public health)" without giving health departments the ability to accommodate those changes, said Moser. "Legislative changes are needed to align the statutes with the public health transformation, and allow for system changes," she said.
The bill proposes funding criteria for state-mandated services, such as injury and disease prevention, with continued support for other core services including the state's HANDS home-visiting program for new parents, WIC supplemental nutrition program for women, infants and children, and certain substance abuse treatment needs. Other needs would be determined locally by the departments.
Around 18 local health departments in 41 counties face financial insolvency within the year without "significant fiscal and operational changes" to the public health system proposed in HB 129, Moser told the committee. The Kentucky Health Department Association has said that, while some county health departments could receive less funding under the bill, most departments would receive more funding.
Rep. Joe Graviss, D-Versailles, worked on the bill with Moser and many other state and local officials over the past year. He praised the process used to gain input for the legislation, and asked the committee to support the bill.
"It really was a model for stakeholder involvement and bipartisan support, and I'm very grateful for being able to be involved, and would urge the committee to please unanimously approve this bill," said Graviss.
HB 129 now goes back to the House for its consideration.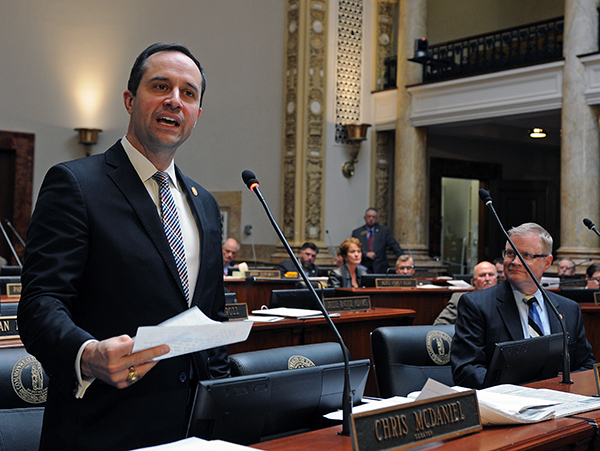 Sen. Christian McDaniel, R-Taylor Mill, speaks on Senate Bill 3, a proposed constitutional amendment relating to the election of state officers, during today's proceedings from the Senate floor. A hi-res photo can be found here.
State Senate passes first bills of Regular Session
FRANKFORT – Legislation to move the governor's race to presidential election years passed out of the state Senate today, making it the first measure to clear the chamber this session.
Known as Senate Bill 3, the legislation is a proposed amendment to the Kentucky Constitution. In addition to the governor and the lieutenant governor, who run on the same ticket, the races for state treasurer, auditor, attorney general, secretary of state and agriculture commissioner would move to presidential election years.
"Everything old is new again," said Sen. Christian McDaniel, R-Taylor Mill, who sponsored SB 3 along with Senate Majority Floor Leader Damon Thayer, R-Georgetown. "This bill is very much that case."
McDaniel then explained that he had sponsored similar legislation during the seven prior Regular Sessions of the General Assembly.
"The glory of getting to present it for the eighth year in a row is that I don't have to write my speech again," he said, adding that he persists because the measure would save about $15 million in taxpayer money by consolidating the dates elections are held.
As it stands now, Kentucky has three statewide elections each four-year cycle. Two of those elections follow the national cycle of federal races, which happen to fall on even-numbered years. Tucked between those are the races for the statewide constitutional offices.
Sen. Robin L. Webb, D-Grayson, explained her vote against SB 5.
"The issues that affect Kentucky need to take the forefront in any debate ... and not be drowned out by millions of dollars of advertisements from national campaigns," she said. "I feel like our system now protects Kentucky's interests in that regard."
SB 3 passed by a 31-3 vote, surpassing the threshold of 23 votes required for proposed constitutional amendments to clear the Senate. It now goes to the House of Representatives for its consideration.
If SB 3 passes the General Assembly this session, the proposed change to the constitution would appear on the November ballot. And if the voters approved the change, it wouldn't go into effect until 2028. That way it would not lengthen the term of anyone currently in office, McDaniel said.
In other news, the Senate also passed a measure to discourage tenants from damaging rental properties after they are evicted.
The legislation, known as Senate Bill 11, would clarify current criminal mischief statutes by creating a category in Kentucky's criminal code exclusively for damaging rental properties. Sen. John Schickel, R-Union, who sponsored SB 11, said it would not increase the penalty but would clarify that intentionally damaging rental properties is a crime in addition to a civil matter.
SB 11 passed by a 29-5 vote. It now too goes to the House for its consideration.
END
Sports wagering bill clears House committee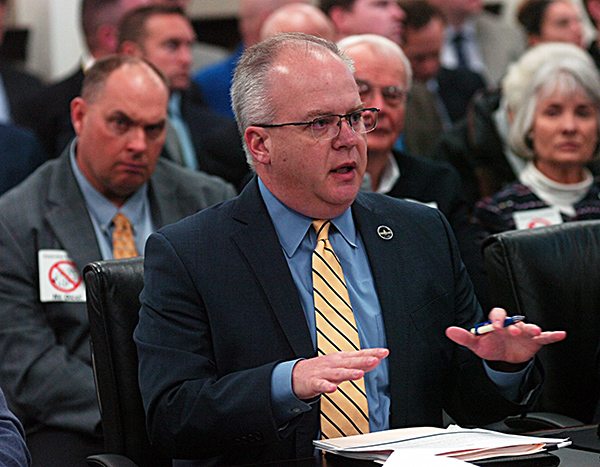 House Licensing, Occupations, and Administrative Regulations Chair Rep. Adam Koenig, R-Erlanger, presents House Bill 137 regarding sports wagering. The measure is sponsored by Koenig and Rep. Al Gentry, D-Louisville. A hi-res photo can be found here.
FRANKFORT—A bill to legalize sports wagering and regulate online poker and fantasy sports operations in Kentucky is on its way to the House after receiving committee approval today.
House Licensing, Occupations, and Administrative Regulations Chair and House Bill 137 sponsor Rep. Adam Koenig, R-Erlanger, said the legislation—approved by Koenig's committee this morning—is expected to help Kentucky recoup tens of millions of dollars in tax revenue it loses annually to legalized sports betting in surrounding states like Indiana, West Virginia, and Tennessee.
"I talked to an Ohio state senator over the weekend, and he believes they will be moving forward with passing (sports betting) probably this year," said Koenig. "Obviously a lot of folks who see the revenue potential see the opportunity to allow folks to do something legally that they are currently doing illegally."
Kentucky is expected to draw at least $22.5 million in new tax revenue annually under HB 137 should it become law, according to economist John Farris with Commonwealth Economics who testified alongside Koenig and fellow HB 137 sponsor Rep. Al Gentry, D-Louisville. Farris said an estimated $1.6 to $2 billion is illegally wagered on sports in Kentucky each year, equating to $140 million in illegal profit that is not currently taxed.
"Without sports wagering legislation, Kentucky will continue to lose this potential tax revenue generation to illegal operators," Farris said.
Gentry called HB 137 "commonsense legislation," adding that the bill "is not going to solve our challenges, we know that, but it is a good first step. It's a first step to retain revenue."
Koenig said the bill does include some changes from 2019 HB 175, similar legislation sponsored and successfully passed out of House committee by Koenig and Gentry last year. Unlike the 2019 proposal, HB 137 would allow wagering on in-state sports teams, among other changes.
Legislation similar to HB 137 has also been filed in the Senate. That bill, Senate Bill 24 filed by Sen. Julian M. Carroll, D-Frankfort, is now awaiting action in the Senate Licensing, Occupations, and Administrative Regulations Committee.
-END-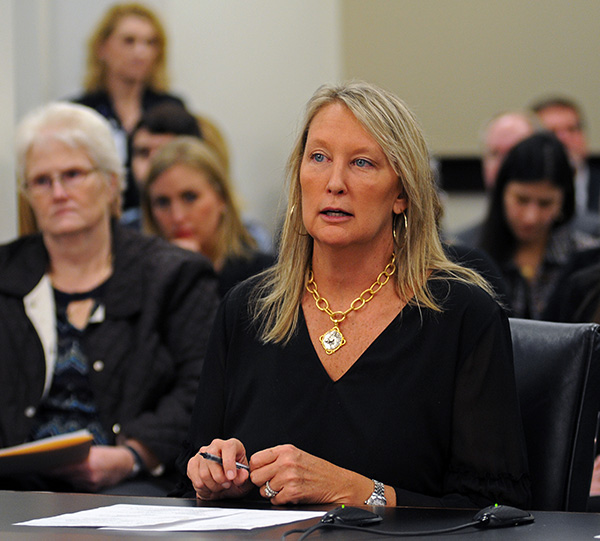 Senate Majority Caucus Chair Julie Raque Adams, R-Louisville, explaining Senate Bill 72, legislation she introduced to ban female genital mutilation during today's meeting of the Senate Licensing, Occupations and Administrative Regulations Committee. A hi-res photo can be found here.
Bill banning female genital mutilation advances
FRANKFORT – Jennifer was just 5 when her parents told her she was taking an airplane for a "special trip." It turned out it was to a group of strangers who restrained, gagged and cut her – without the use of anesthesia.
Now an adult, Jennifer used only her first name while testifying about surviving female genital mutilation, often referred to as FGM. She appeared before the Senate Health & Welfare Committee in support of Senate Bill 72, a measure that would ban the practice in Kentucky.
"I'm here today, not just to tell my story, but for the many others who have not found their voices," Jennifer said. "We need to send a strong message that we do not support this practice."
Kentucky is among 15 states where it is still legal, according to information provided to the committee. A federal ban that had been in place for more than two decades was found unconstitutional in 2018.
FGM is any procedure involving the partial or total removal of the external female genitalia or another injury to the female organs for nonmedical purposes, said Amanda Parker of the AHA Foundation, a New York-based nonprofit dedicated to the elimination of the procedure. She said it is typically performed on girls between the ages of 4 and 14 – often with a razor blade or pair of scissors.
"This is a form of child abuse that is used to control the sexuality of women and girls," said Parker, who also testified in support of SB 72. "It predates all major religions and is not mandated by any major religion. It is something that has been co-opted by patriarchal societies and religious sects."
Senate Majority Caucus Chair Julie Raque Adams, R-Louisville, said 1,845 girls or women are at risk or have undergone FGM – just in Kentucky, according to the Population Reference Bureau, a Washington D.C.-based nonprofit that promotes evidence-based health and welfare policies.
"As you know, I'm very passionate about child abuse, and this is probably the most egregious form of child abuse against ... young girls that I have recognized," said Adams, who sponsored the legislation along with Sen. Whitney Westerfield, R-Crofton, and Sen. Ralph Alvarado, R-Winchester, who also chaired today's committee meeting.
SB 72 would make performing FGMs on minors a felony, ban trafficking girls across state lines for FGMs and strip the licenses from medical providers convicted of the practice. Another provision would classify FGM in state statutes as a form of child abuse and require mandatory reporting of it. An educational component of SB 7 would provide outreach to communities and professionals likely to encounter FGM cases and mandate training for law enforcement.
The proposed changes in the law would also allow survivors of FGM to file civil lawsuits against their perpetrators up to 10 years after turning 18.
Jennifer said she went public as a survivor, in part, to help prevent the act from happening to other girls. This was her third time testifying before a legislative committee in recent months.
"When you consider this bill, I urge you to think about any other little girl in your life you love and care about," she said. "If someone were to come into her life that believed in this practice and wanted to cut her, would you be able to stand by and not do everything in your power to stop it?"
Sen. Stephen Meredith, R-Leitchfield, said he wished more people dared to speak out when they encounter societal wrongs.
"I want to commend you for your testimony," he said in voting for the measure. "I'm not sure any of us appreciate the courage it takes to get up before a committee like this and talk about something so personal."
Sen. Tom Buford, R-Nicholasville, also voted for SB 72.
"The time has come for Kentucky to stand up ... and say no to this," he said.
SB 72 received committee approval and now goes to the full Senate for consideration.
END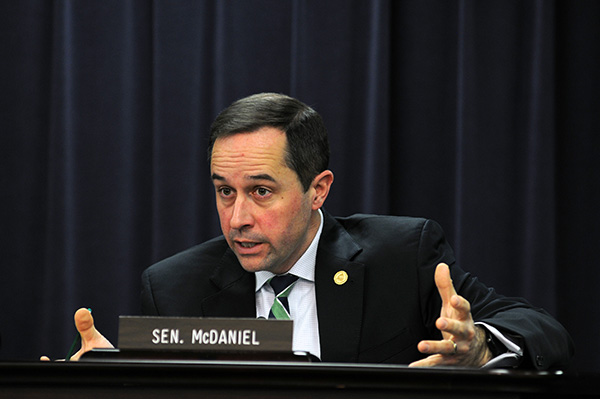 Sen. Christian McDaniel, R-Taylor Mill, asking a question about Senate Bill 11, a measure relating to criminal damage to rental property during today's meeting of the Senate Licensing, Occupations and Administrative Regulations Committee. A hi-res photo can be found here.
Bill to curb damaging rental properties heard
FRANKFORT – A measure to discourage tenants from damaging rental properties after they are evicted advanced out of a Senate committee today – the first bill to do so in the Senate this session.
The legislation, known as Senate Bill 11, would clarify current criminal mischief statutes by creating a category in Kentucky's criminal code exclusively for damaging rental properties. It wouldn't increase the penalty, said Sen. John Schickel, R-Union, who introduced the bill.
After Meg Savage of the Kentucky Coalition Against Domestic Violence spoke out against SB 11, the measure was amended by the Senate Licensing, Occupations and Administrative Regulations Committee to give prosecutors greater discretion when deciding what criminal charge to bring against people caught damaging rental units. Savage said she was concerned abusive partners may blame their victims for damaged apartments – even with the amendment.
Jesse Brewer, a property manager from Northern Kentucky who testified in support of SB 11, said the bill would help property managers more easily identify people with a history of trashing rental units when vetting prospective tenants through criminal background checks.
"I have dealt with the issue of damaged properties numerous times," said Brewer, who is also a Boone County commissioner. "Additionally, I have worked with multiple clients who have endured a wide variety of intentional damage to their property – things such as tearing all the cabinets off the walls, plugging the drains, leaving the water running, smearing human feces on ceilings, concrete in the drains and so on."
Sen. Christian McDaniel, R-Taylor Mill, asked Brewer whether SB 11 would prompt more prosecutors to pursue criminal charges against people who damage rental properties.
"I'm hoping this will be another tool in the prosecutor's tool belt," said Brewer, adding the proposed change hopefully clarifies that intentionally damaging a rental unit is a criminal act and not just a civil matter. "It gives prosecutors something in the statute concerning rental properties they can sink their teeth into."
END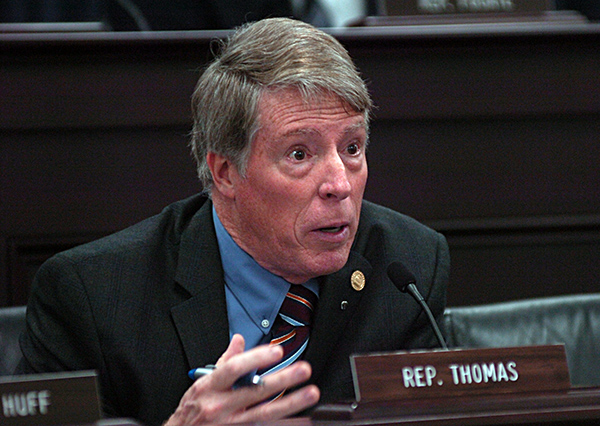 Rep. Walker Thomas, R-Hopkinsville, asks questions about the rollout of Kentucky's Real ID offices during today's House Transportation Committee meeting. A hi-res photo can be found here.
House Transportation hears of Real ID rollout
FRANKFORT – The rollout of Real ID-compliant driver's licenses and ID cards resumes this week with regional offices opening in Bowling Green, Paducah and Somerset, state officials told the House Transportation Committee today.
Transportation Cabinet Secretary Jim Gray, who is a former two-term mayor of Lexington, told the committee that the Bowling Green office officially opened yesterday. The other two offices are scheduled to officially open at the end of the week, he said.
The offices are among 12 initial regional offices planned statewide, with a central office opened in Frankfort last fall. More offices – as many as 30, said Gray—may be added in time, although the deadline for compliance with the federal Real ID requirement no later than October 2020 makes immediate action necessary, Gray said.
The locations of the initial 12 offices announced by the Cabinet last fall include Bowling Green, Paducah and Somerset as well as Manchester, Jackson, Prestonsburg, Morehead, Florence, Elizabethtown, Madisonville, Louisville, and Lexington.
"We need to move very swiftly in implementation in the short run to get us up by the deadline," said Gray.
The federal 2005 Real ID Act requires states to issue more secure driver's license and ID cards to individuals who want to board commercial aircraft and enter certain federal facilities after October 2020. The regional offices will issue "voluntary travel IDs" to qualified individuals who wish to fly domestically without a passport or other accepted ID after the October deadline.
Kentuckians can continue to use their valid current driver's license and ID cards to board domestic flights through October.
Rep. Kathy Hinkle, D-Louisa, asked Gray if there is a date set for the rollout of regional offices in Eastern Kentucky. Gray replied the Cabinet is "not quite there yet" but will update Hinkle as more dates become available.
Rep. Walker Thomas, R-Hopkinsville, whose district includes Fort Campbell, said the nearest regional office to his district will be in Madisonville—about an hour or so from the Army base. Thomas asked if there is a possibility that a Real ID office could be located closer to Christian County. Gray said future offices will depend on some "monitoring" this year.
"The plan is ultimately to go up to 28 or 30. There's a lot of change going on here with technology," though, said Gray. Changes at the federal level could allow the state to introduce new apps or other technology to streamline implementation, Gray said, but he doesn't want the state to act "prematurely."
"We need to be thoughtful and careful about how much investment we make, for example, in bricks and mortar, so we don't overinvest prematurely," Gray said. "There are a lot of moving parts but we're getting our arms around it."
The committee also voted today to approve House Resolution 11, sponsored by Rep. Jim DuPlessis, R-Elizabethtown. Now on its way to the House chamber for approval, the resolution would urge Congress to require auto manufacturers to install child safety features that sound an alert if a child is left in the back seat of a vehicle.
Over the past 30 years, DuPlessis said, more than 900 children in the U.S. have died after being left in hot cars, largely by accident.
"Why not have the pennies it costs to have a seat sensor in the back seat to let the driver know … there's still someone in the back seat of the car," he added.
END
This Week at the State Capitol
FRANKFORT — With gavel strikes at opposite ends of the State Capitol, members of the Senate and House officially started the Kentucky General Assembly's 2020 session on Jan. 7.
Though there are new issues and challenges at the start of each legislative session, familiar procedures are often the focus in the earliest days. New members are welcomed, the membership of each chamber is affirmed and rules are adopted that will govern activity in the Senate and House for the rest of the session.
Through it all, there's typically a good deal of optimism and hope at the start of the session. At the same time, big questions hang in the air. Lawmakers face the enormous task of crafting the state's next two-year budget at a time when expenses are growing faster than revenue. Tough choices are ahead as they decide which matters should be given priority.
The state's new governor is also sure to advocate for the issues he wants lawmakers to prioritize. With Gov. Andy Beshear saying he wants $2,000 pay raises for Kentucky's public school teachers, Capitol observers are eager to see how a budget proposal that he will submit this month will handle teacher pay and other issues. Once lawmakers receive the governor's spending plan, it will be up to them to make whatever changes they determine are necessary to produce a budget that best serves the state.
Though the budget will be a big issue this year, many other matters will also receive attention. By the end of the first week of activity in the Senate and House more than 300 bills had been filed on issues including immigration, gun rights, vaping, gubernatorial pardons, voting rights, and scores of other topics. Legislation introduced this week has been referred to the committees that will study the issues in depth in the days to come to determine which bills should be forwarded for consideration by a chamber's entire membership.
Next week, the Senate and House will meet in a joint session to listen the governor's first State of the Commonwealth Address. The speech will be broadcast to a statewide audience on Kentucky Educational Television at 7 p.m. on Tuesday, Jan. 14. Two weeks later, the governor is scheduled to return for another joint session of the Senate and House to offer his Budget Address.
The 2020 legislative session is scheduled to last 60 working days, with an adjournment date of April 15, the latest possible day lawmakers are allowed to meet in a regular session, according to the state constitution.
Citizens are encouraged to follow the issues lawmakers will consider in the weeks ahead and offer feedback. There are many ways to stay in touch with legislative activity. The Kentucky Legislature Home Page, www.legislature.ky.gov, provides information on each of the Commonwealth's senators and representatives, including phone numbers, addressees, and committee assignments. The site also provides bill texts, a bill-tracking service, and committee meeting schedules.
To leave a message for any legislator, call the General Assembly's Message Line at 800-372-7181.
You may also write any legislator by sending a letter with the lawmaker's name to: Capitol Annex, 702 Capital Avenue, Frankfort, Kentucky 40601.