Recent News
This Week at the State Capitol - 1/6/23
House takes step to lower income tax rate - 1/5/23
New Senate Committee on Families and Children holds inaugural meeting

- 1/4/23
Stay connected to the 2023 legislative session - 12/27/22
This Week at the State Capitol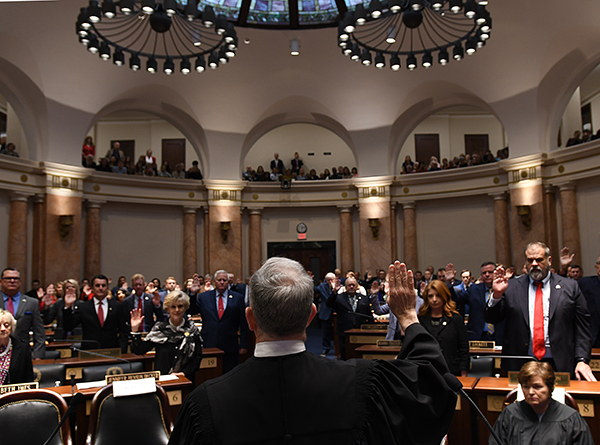 Lawmakers receive the oath of office on the House floor during the first day of the 2023 Regular Session. A high-res version of the photo can be found here.
FRANKFORT — The Kentucky General Assembly kicked off the 2023 Regular Session this week by welcoming dozens of new lawmakers into the ranks and moderating the tempo somewhat in a nod to the traditional "short" sessions of the past.

But even with the new members and measured pace, legislation on two key issues cleared important hurdles over the first four days.

On Thursday, the House advanced House Bill 1, which builds on a major overhaul to Kentucky's tax structure that began last year. The bill would codify a drop in the state income tax rate from 5% to 4.5% for 2023 and further reduce the rate to 4% beginning next year.

Supporters say the overhaul will provide financial relief to Kentuckians by gradually eliminating state taxes on personal income while simultaneously expanding the state's overall tax base. Critics, however, say it will undermine state revenues without offering much benefit to middle- and low-income families.

HB 1 now heads to the Senate for consideration.

On Friday, the Senate passed Senate Concurrent Resolution 31 to create an emergency work group that will examine the state's troubled juvenile justice system.

The panel will review safety, staffing and management of the system to determine if reforms are needed and report their findings back the General Assembly.

Friday's proceedings concluded Part I of the 2023 session, one in which new members make up nearly a quarter of the legislature. When the chambers gaveled in on Tuesday, a total of 31 new lawmakers received the oath of office – 25 in the House and six in the Senate.

Along with the fresh faces came changes to committees and even some to leadership, including the minority floor leaders in both chambers. Both chambers also decided to divide up their respective committees on health, welfare and family services into separate committees this year that could better focus on key issues.

The Senate also took time on Friday to say goodbye to Sen. Ralph Alvarado, R-Winchester, who has accepted an appointment as commissioner for the Tennessee Department of Health.

Amid all the changes, one of the most noticeable differences this week was an effort to return to the original intent of the short, 30-day legislative sessions.

Ever since an amendment to the state constitution in 2000, the General Assembly has met in short sessions during odd-numbered years. The proceedings were intended to bridge the gap between longer, 60-day sessions in even-numbered years.

Early on, lawmakers tended to avoid major legislation during short sessions, opting instead to focus on smaller issues and procedural matters. But short sessions have grown more complex over time.

House Speaker David W. Osborne, R-Prospect, told reporters on Tuesday that, after several years of aggressive agendas, he expects lawmakers will pump the breaks some this year.

"I think this is going to be a much more traditional short session," he said.

Part II of the session is set to convene on Feb. 7. Lawmakers have until Feb. 21 to introduce new bills in the Senate and until Feb. 22 to introduce new bills in the House. The chambers are scheduled to adjourn sine die on March 30.

Kentuckians can track the action through the Legislative Record webpage, which allows users to follow a bill's progression through the chambers.

Citizens can also share their views on issues with lawmakers by calling the General Assembly's toll-free message line at 1-800-372-7181.
END
House takes step to lower state income tax rate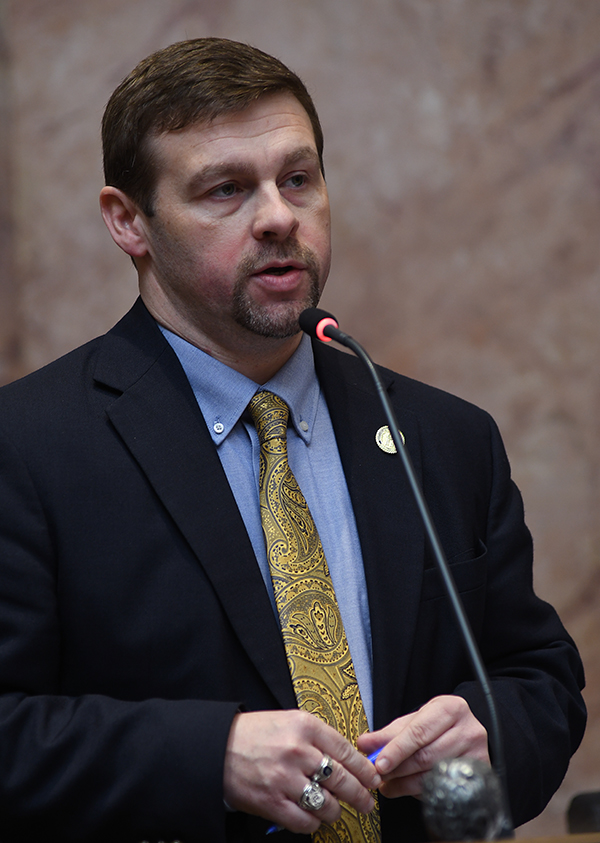 Rep. Brandon Reed, R-Hodgenvlle, speaks on the House floor on Thursday on House Bill 1. A high-res version of the photo can be found here.
FRANKFORT— The Kentucky House of Representatives made another step toward eventually eliminating the state income tax rate with the passage of House Bill 1 on Thursday.

The bill's primary sponsor, Rep. Brandon Reed, R-Hodgenville, said HB 1 is essentially a continuation of House Bill 8 from the 2022 legislative session, which set that stage for a major overhaul of Kentucky's tax structure.

Reed said HB 1 will codify the state income tax rate reduction to 4.5% from 5% for 2023 and further reduce the state income tax rate to 4% beginning Jan. 1, 2024.

Last year's HB 8 established "triggers" that will lower the state income tax rate by either a half or full percentage point once state revenues reach certain levels. Revenues met the first trigger in 2022, which automatically reduced the state income tax from 5% to 4.5% on Jan. 1. Further income tax rate reductions require legislative approval.

Reed said HB 1 puts the General Assembly, "another step closer to putting more money back into the pockets of hard working Kentuckians."

"With HB 1, we are sending a statement to the hardworking Kentuckians that Frankfort has budgeted to our needs, not our wants; made investments, paid down debt, and we have saved," Reed said. "We are reducing their tax burden, so they can further invest, pay down debt and save for their families."

The House debated HB 1 for nearly an hour and a half Thursday with Minority Floor Leader Derrick Graham, D-Frankfort, being one of the members to speak against the bill. Graham said the state's current surplus is the result of one-time federal COVID-19 relief funds. He expressed concerns that the state and its budget will struggle in the future under the new tax plan.

"What we're seeing is that we're thinking about now and not about tomorrow," Graham said. "And if we continue down this path, when all of the federal dollars are gone, the Commonwealth of Kentucky is going to have a difficult time trying to fund pre-K and higher education, our state government, our state employees (and) our retirees."

Rep. Josie Raymond, D-Louisville, agreed and stated that the tax cut benefits the wealthy the most and hardly makes an impact on middle- and low- income Kentuckians, especially after HB 8 in 2022 raised taxes on certain services.

"Middle-income families like mine will get an income tax reduction of about 300 bucks," she said. "Three hundred bucks is a wash for the bank accounts of middle income and working class families who are now paying more for Christmas photos and little league than they're getting back under this bill."

Majority Whip Jason Nemes, R-Louisville, was among the House members to vote "yes" on HB 1. He said with passage of the measure, it was "a great day" and a "banner" day for Kentucky.

"This bill is about tomorrow because it will hopefully provide the jolt to our state that we need," Nemes said. "States with a 0% income tax have grown 56% faster since 2000."

Speaker Pro Tempore David Meade, R-Stanford, agreed that HB 1 is the right move for Kentucky. He said since the first reduction bill in 2018, which lowered the state income tax rate from 6% to 5%, Kentucky has seen "significant revenue gains."

"Now it's time for taxpayers to reap the benefits," Meade added.

The House approved HB 1 by a 79-19 vote. It will now go before the Senate for consideration.
END
Jan. 4, 2023
New Senate Committee on Families and Children holds inaugural meeting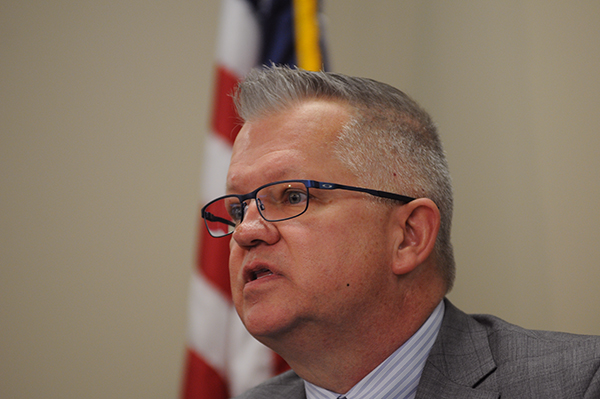 Sen. Danny Carroll, R-Benton, speaks during the first meeting of the Senate Committee on Families and Children. A high-res version of the photo can be found here.
FRANKFORT — The new Senate Standing Committee on Families and Children held its first meeting Wednesday, discussing plans to take aim at important and complicated issues in Kentucky.

Sen. Danny Carroll, R-Benton, chairs the committee. He said its jurisdiction includes family and children's issues, child welfare, adoptions, protective services, caregiver support, family preservation programs, senior citizen programs, sexual assault programs and much more.

Carroll said he looks forward to pinpointing important issues. One of the biggest priorities will be child abuse and neglect, he said, noting that Kentucky ranks among some of the worst states in the nation in those areas.

"That's completely unacceptable, and I'm hopeful that within this committee we can focus on specific issues and really make an impact," Carroll said.

Lawmakers established the new group on Tuesday – the first day of the 2023 legislative session. In previous years, the issues of health, welfare and family services all fell under the jurisdiction of one committee. However, the Senate decided to divide the issues up between two committees this year, and the House has taken a similar approach.

On Wednesday, the Senate committee heard testimony from Eric Friedlander, secretary of the Kentucky Cabinet for Health and Family Services. Friedlander praised the General Assembly for the change and said some issues were often overshadowed under the old structure such as the mission of the state Department for Community Based Services (DCBS).

"Medicaid hospital providers, nursing facilities – that's where a lot of the attention goes and not enough attention then goes to the DCBS side, the child protective service side, the adult protective service side, which hardly anybody ever talks about and is critically important," he said.

Sen. Robin L. Webb, D-Grayson, said she looks forward to collaboration with Friedlander and others.

"As a practitioner, I'm glad to see this change, and I have had a lot of thoughts over the years of the way things could be done better," she said. "And I am on the ground in the trenches working with your field people and the challenges that they face too."

Carroll said he supports working with CHFS officials as well.

"I think we're on the same page in a lot of areas," he said. "What we deal with are not political issues. These are dealing with our families and with our kids, and I think it's crucial that the legislative and the executive branch work together."

Other committee members include Senate Majority Caucus Chair Julie Raque Adams, R-Louisville, vice chair; and members, Sen. Rick Girdler, R-Somerset; Sen. Ralph Alvarado, R-Winchester; Sen. Stephen Meredith, R-Leichfield; Sen. Denise Harper Angel, D-Louisville; Sen. Amanda Mays Bledsoe, R-Lexington; Sen. Lindsey Tichenor, R-Smithfield; Sen. Whitney Westerfield, R-Crofton; and Sen. Max Wise, R-Campbellsville.


END
Stay connected to the General Assembly during the 2023 legislative session
FRANKFORT — The Kentucky General Assembly will kick off the 2023 legislative session on Jan. 3, and Kentuckians have many ways to follow along with the action.

-- Kentuckians can use online resources to:
-- See the General Assembly's daily schedule
-- Tune in to live coverage of legislative meetings
-- Find information on their legislators
-- Contact lawmakers and offer feedback
-- Read bills and resolutions
-- Receive a notice when a bill advances
-- See how lawmakers voted on bills and resolutions
-- View materials on committee topics and testimony
-- Learn about the legislative process

All that and much more is available on the General Assembly Home Page: https://legislature.ky.gov/pages/index.aspx.

Following the General Assembly's work often begins with a daily look at the Legislative Calendar: https://apps.legislature.ky.gov/LegislativeCalendar. The calendar shows which committees are meeting and when the Senate and House will convene.

Livestreams of legislative action can be viewed through feeds provided by Kentucky Educational Television (KET) and the Legislative Research Commission (LRC).

KET livestreams all chamber proceedings, while committee meeting coverage is provided by both KET and LRC. For links to the livestreams, go to https://legislature.ky.gov/Public%20Services/PIO/Pages/Live-Streams.aspx.

You can find each lawmakers' contact info, biographical info, committee assignments and sponsored legislation by clicking on the "Legislators" tab near the top of the General Assembly Home Page: https://legislature.ky.gov/Pages/index.aspx. You can also look up who represents your district.

The online Legislative Record (https://legislature.ky.gov/Legislation/Pages/default.aspx) has information on every piece of legislation introduced in the Senate and House. You can read summaries, the full text of bills, resolutions, amendments and see exactly how far each piece of legislation has advanced in the process. Bills can be looked up according to bill number, sponsor or topic. If a bill has been voted on in a chamber, you can see how each lawmaker voted by clicking "Vote History" on a bill's summary page.

Bill Watch, a bill tracking service provided through a partnership of Kentucky.gov and LRC, sends users email notifications each time the bills they are interested in take a step forward. To sign up for Bill Watch, go to https://kentucky.gov/services/pages/billwatch.aspx.

Information about legislative committees is available at https://legislature.ky.gov/Committees/Pages/default.aspx. To view materials such as info sheets, handouts and PowerPoint presentations that are compiled for lawmakers to review at committee meetings, click on the "Meeting Materials" tab on the left side of each committee's page.

To share feedback on an issue with lawmakers, call the General Assembly's Message Line at 1-800-372-7181. Kentuckians with hearing loss can use Kentucky Relay by dialing 7-1-1.

A Spanish language line for legislative information will be available throughout the General Assembly's 2023 session by calling 1-866-840-6574.

To directly reach a lawmaker's office, call 502-564-8100. An operator will transfer the call to the office of the lawmaker you want to reach.

If you have a question about the lawmaking process or legislative resources, the LRC Public Information can be reached by calling 502-564-8100 ext. 59105.


END